Taste of beauty
Chef from five-star hotel serves
heartwarming hospitality

"Food Park Kabaru" is a restaurant in Bijin no Yu.
There are various menus for the warm banquet in the back room.
The chef's special Kaiseki cuisine that makes use of seasonal ingredients, Japanese and Western cuisine, authentic Indian cuisine, light meals and sweets are served.
Introducing Chef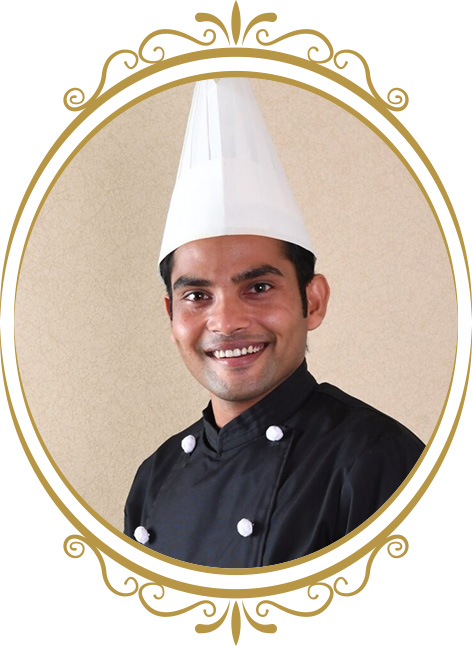 Chef
ALAM MUFID
Chef Alam is from India!
Enjoy authentic Indian cuisine such as curry and naan.

Brief personal history
---
Worked at a hotel affiliated with Marriott International. After serving as chef at 5 star hotels in India and Bangladesh including Le Méridien Dhaka and Westin Chennai. He arrived in Japan on April 2019. He became the head chef of the restaurant "Asian bar and Grill Kabaru" in "Bijin-no-Yu Kakamigahara".
Business Hour
Week day

11:00~15:00(L.O 14:30)

17:00~21:00(L.O 20:30)

Sat., Sun. and Holidays
11:00~22:00(L.O 21:30)
We take order to go as well!
To go service is available on…
| | |
| --- | --- |
| Week day | 11:00~14:30、17:00~21:00 |
| Sat. Sun. and Holidays | 11:00~21:30 |
Curry

※Tax included
Deluxe Triple Curry and Naan set

1,518yen

This is a special dish that comes with the popular triple curry set and tandoori chicken. If you can't decide what to eat, you should choose this one!

Triple Curry and Naan set

1,298yen

It is a very reasonable set with 3 kinds of curry plus naan, mini rice, salad and drink.

Beef Bhuna

1,243yen

Spicy curry with plenty of beef. Bhuna 'means' stir fry. '. It's a curry with less water, made by stir-frying spicy beef at a high temperature.

Chicken Tikka Makhani

913yen

Tomato based curry with chicken thighs. It's a bit more spicy than chicken butter curry.

Chicken Korma

913yen

A mild and creamy white chicken curry based on cashew nuts.

Kakamigahara Ikemen Beef Curry

968yen

Beef curry with lots of Kakamigahara's specialty carrots. Improved it to make it less spicy, easier to eat, and goes well with naan. Of course, it is also delicious with rice.

Chicken Keema Curry

792yen

This is a flavorful curry made by stir-frying minced chicken, onion and tomato, and stewing it with 16 kinds of spices. This is a spicy and rich recommended curry.

Spinach Curry

792yen

Healthy green curry made with plenty of iron-rich spinach.

Vegetable Curry

792yen

As for vegetable curry, more than 10 kinds of vegetables are boiled, and it is gentle on the body! Even children can enjoy it at ease.

Chicken Butter Curry

792yen

Chicken butter curry, the most popular among the various curry menus, has a basic taste with plenty of tomato, chicken and butter. It is also popular among children.

Naan Pizza

858yen

Naan pizza is very popular among children and adults. It is very voluminous with potato salad.

Keema Naan

550yen

Spicy ground chicken (Keema) is stuffed inside the naan. It's a little spicy.

Garlic Cheese Naan

682yen

The best of cheese naan and garlic naan. It is delicious even without curry.

Garlic Naan

462yen

The garlic topping makes it more delicious. This flavor is addictive.

Cheese Naan

550yen

Cheese naan is renewed. Naan with melting cheese inside. 

Naan

308yen

The great combination of 2 types of bread flour and rice floor. It's crunchy. This naan is proud of "Food Park Kabaru".

Tandoori Plate

1,078yen

This is a gorgeous dish that comes with a tandoori chicken, Malai Tikka and Chicken Tikka.

Sikh Kabab

792yen

Sikh means' Skewer, 'and Kabab means' grilled meat. '. Because the ground chicken is used in Kabaru, there is no smell and it is easy to eat. Perfect as a snack with beer!

Chicken Tikka

792yen

Bite-sized chicken thighs are marinated with plenty of spices and grilled juicy. It's easier to eat than Tandoori chicken and more spicy than Malai Tikka.

Malai Tikka

792yen

"Malai" is a thin film formed when milk is warmed. "Tikka" means bite size. Bone-free chicken thighs marinated in malai, yogurt and spices are baked in a tandoori oven. Soft and mild. The moderate spiciness is highly recommended.

Tandoori Chicken (2 pieces)

913yen

Bone-in chicken thighs marinated in spices are skewered on a skewer called "Sikh" and baked in a tandoori oven for a savory flavor. Tasty and spicy! It goes well with rice and alcohol. Please bite into it and enjoy.
Japanese food
Negi Oroshi Pon-zu Katsu set

1,089yen

Drinks

We have various kinds of beer, shochu, sake, chuhai, soft drinks, hot drinks, etc.